2015 Brad Bevan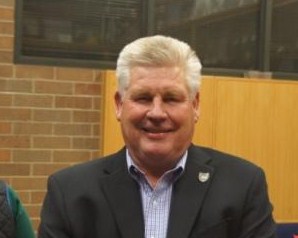 2015 BRAD BEVAN
Physical Education, Drivers' Education and history teacher at Bingham High School (1977-2014)
Head baseball and golf coach and Athletic Director at Bingham
He won one baseball state championship and two state golf titles
He was named the National Federation of High Schools' Coach of the Year (2004)
Member of the Bingham High School Coaches Wall of Fame (2015)
Member of the Utah Sports Hall of Fame and Coaches Hall of Honor (2013)
He rendered countless hours of service in supporting sports and all programs at Bingham High
He developed a great pride and love for the Bingham community and it students over his decades of dedicated service
Brad Bevan was awarded the 2013 Candlelight Service Award at the 79th annual presentation of the Candlelight Christmas program at Bingham High School on December 15, 2015. Since 1937 students at Bingham have been participating in this annual Christmas festival of music and lights. Since 1975 it has been a tradition to honor someone at this program who has contributed outstanding service to Bingham High. This award is known as the Candlelight Service Award. The winner of the 2015 Award was Brad Bevan, a Bingham High driver's education and physical education teacher, coach and athletic director from 1977 to 2014.
Brad Bevan grew up in Taylorsville and attended Granger High School. After graduating from high school, he attended BYU on a baseball scholarship. At BYU he led the Cougar team in batting average as a junior and received the school's top scholar athlete award (Ed Stein Award) following the 1973 season. In 1971 he led play for the Cougars in the College World Series. He played shortstop in the California Angels minor league system after his graduation from college. In 1974, at the young age of 23, he would begin his high school coaching career at Payson High School, heading up the basketball and baseball programs.
Mr. Bevan came to Bingham High School in 1977 where he would teach and coach for the next 37 years. He was first assigned to teach history and later would instruct students in Driver's Education and Physical Education. He has given driving tests to thousands of students spanning two generations.
He coached baseball for 15 seasons, beginning in 1977, and led the Miner team to a state championship seven years later when his team finished with a national ranking of 14. For that accomplishment he was named the Western States Baseball Coach of the Year. Bingham successfully repeated as state champions in 1985 and was the state runner-up in 1983, 1991 and 1992.
He began coaching the Bingham boys golf team in 1985 and brought home two state titles—in 1991 and 2004—and 10 region titles during his 26 year tenure as head coach. In 2004 he was named the National Federation of High Schools' Coach of the year. That was quite the accomplishment, knowing that there were 21,000 high school golf coaches eligible for that award.
He would also serve as Bingham's athletic director from 1994 to 2014. During this time Bingham would win over 200 Region Championships and 35 State Championships. For his outstanding contribution to Utah High School sports, in 2013, he was inducted into the Utah Sports Hall of Fame and the Coaches Hall of Honor. For his career coaching excellence, he was inducted into the Bingham High School Coaches Wall of Fame in 2015 and has a banner in his name in the Bingham High School gymnasium. After 37 years teaching and coaching at Bingham High retired following the 2013-2014 school year.
Brad and his wife Jackie have been married for 44 years. They have three children, Brody, Brooklyn and Brin and seven very active grandchildren. (Easton, Sawyer, London, Cal, Oakley, McCartney, and Hadley)
Over the years, Mr. Bevan has developed great love for the community and the students of Bingham High. He is known for his support of all of the programs at Bingham and has attended the annual Candlelight Performance almost every year. He possesses a pride for Bingham High that will never be surpassed. He has been described as a Bingham icon because he embodies the essence of Bingham High. For his outstanding contributions and service to Bingham High, we are pleased to award Brad Bevan the 2015 Candlelight Service Award.