2013 Melvin Gamble, dedicated educator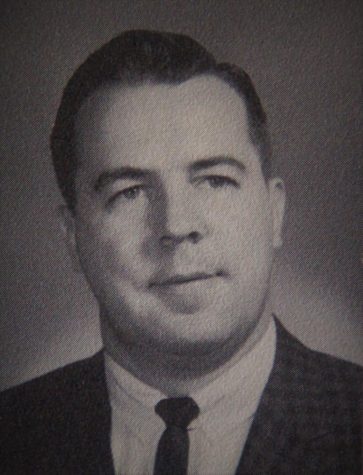 2013 MELVIN J. GAMBLE
Business teacher at Bingham High (1962-1978)
He opened up the Business Department at the South Jordan Bingham High building and laid the foundations for what the department would become for many years afterward
Chair of the Bingham Business Department
He opened the Business Department at Alta High School in 1978 and taught there until his retirement in 1992
He was a teacher who was never too busy to help his students, showed concern and always encouraged them to try harder and do better
He was a dedicated educator who knew the content of his subject and taught it well
Melvin Gamble was awarded the 2013 Candlelight Service Award at the 77th annual presentation of the Candlelight Christmas program at Bingham High School on December 18, 2013. Since 1937 students at Bingham have been participating in this annual Christmas festival of music and lights. Since 1975 it has been a tradition to honor someone at this program who has contributed outstanding service to Bingham High. This award is known as the Candlelight Service Award. The winner of the 2013 Award was Mel Gamble, a Bingham High business teacher in the 1960s and 1970s.
Mel Gamble was born in 1929 in Blackfoot, Idaho where he lived until he entered third grade. At that time his family moved to Salt Lake. He would graduate from Granite High School in 1948. Following high school he served a mission for the LDS Church in the Eastern States Mission. He served in Pennsylvania and New York where he worked with the Onondaga Indians on the Onondaga Reservation. Returning home from his mission he attended LDS Business College for six months before joining the US Marine Corps during the Korean War. After finishing advanced combat training he was deployed to Korea for a year. Upon returning from Korea, he was assigned to Inspector-Instructor Staff of the 45th Special Infantry Company until he was honorably discharged in 1955.
Mr. Gamble then attended BYU and earned a Bachelor's Degree in Business Education and Office Management in 1961 and would later earn a Master's Degree in Education from BYU in 1971. Upon his graduation he was assigned to teach at Jordan High where he taught for one year before coming to Bingham High in 1962. He would teach at the Copperton Bingham High building from 1962 to 1975. In the fall of 1975 when Bingham High School moved to South Jordan he would open up the business department and would teach in this building for three more years. It was through his efforts that the foundations were established for the business department Bingham has today. He then would leave in 1978 to open up Alta High School and would retire in 1992.
Mr. Gamble was an outstanding Bingham High School teacher. One of his former students said, "As a teacher he was always patient, pleasant, and had a good sense of humor. He knew his content and taught it well. I knew that he cared about me just by the way he treated me and showed concern. He was dedicated as an educator."
Another student remarked, "He was a great teacher who was like another dad…he was that type of guy!" And still another commented, "He was always so interested in what you were doing, he was never too busy to help you out and always encouraged you to try harder and do better. He then made you feel good when you did do better. He was always in such a good mood and made class fun. I really enjoyed having him for a teacher. He was one of my favorites."
After retiring Mr. Gamble served another mission with his wife, Joan, at the Washington D.C. Visitor's Center and has enjoyed traveling to a number of countries. He married Joan McCormick on September 24, 1954. They have five children, 18 grandchildren and 14 great grandchildren.