2016 Alumni Foundation Scholarships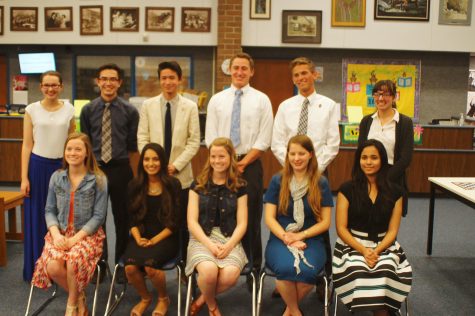 The Bingham High Alumni Foundation presented 12 scholarships to graduating seniors of the Class of 2016.  The following seniors received a $1500 scholarship in the name of the person or group listed next to their name:
Hannah Buening – Cal Crump –
Jessica Teply – George Lendaris—
Samuel Frandsen – BHS Alumni Foundation
Sara Perez – BHS Alumni Foundation
Kira Howarth – James Goris
Jordan Christensen – Class of 1968
Seth Singleton – Class of 1965
Nikita Siddamsettiwar – Claudia Parry
Lindsey Teply – Beard Family
Emerson Ford – Hogan Insurance
Hannah White – Yvonne Cardwell-
Jiahui Karen Chen – BHS Memorial (in memory of outstanding BHS Students who have died before graduation or soon thereafter)
Scholarship night was a great success.  Each board member read a few of the many accomplishments of each scholarship winner and then presented him/her with a check for $750 (the other $750 will be given after the students finish their first semester of college) and copies of the Bingham High history books.  Each scholarship recipient then was asked to make some remarks.  Cake and punch were served for refreshments after the awards ceremony.   The Alumni Foundation wants to thank all alumni members who helped to make these scholarships possible.  Contributions of over $20,000 were contributed this past year to fund the Foundation's scholarships.