Robert D. Day (1939-2021)
We have lost one of Bingham High School's great principals. Robert D. Day was the principal of Bingham High from 1980 to 1986 and will be remembered as an outstanding leader and an exceptional Bingham Miner. He loved Bingham High and was responsible for beginning many Bingham traditions including pinning students for their outstanding achievements. The Bingham Alumni Foundation extends its condolences to the Day family.
In 1994 Mr. Day received the Bingham Candlelight Service Award for his contributions to Bingham High School. The following biography, given at that time, summarizes some of his accomplishments:
1994 Robert Day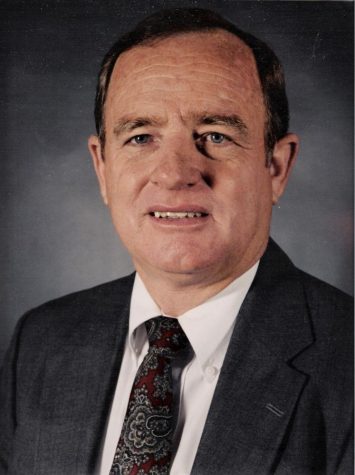 1994 ROBERT D. DAY
Teacher, counselor and administrator in the Granite and Jordan School Districts (1965-1980)
Principal of Bingham High School (1980-1986)
He began the tradition of pinning students for their outstanding achievements
He instituted the extended day teaching schedule at Bingham to deal with the school's large student population.
He worked to adopt the traditional walled-in classroom spaces from the new Bingham High's original open classroom model.
He instituted the Career Ladder Program at Bingham and worked to unify the faculty.
He worked well with the Bingham Community who he felt had made a long-term commitment to the school and had made Bingham High and its traditions unlike any other school.
Principal of Brighton High School (1986-1992)
Jordan School District Administrator
Member of the Board of Directors of the Utah High School Activities Association
This was his obituary:
Robert Darrell Day, beloved husband, father, grandfather, great grandfather, passed away peacefully November 5, 2021, in his home in Draper, Utah from causes incident to age. Robert was born November 12, 1939, to Darrell and Eddis Lurae Bunker Day. He grew up in Draper and attended Jordan High School (Class of 1958). He attended Brigham Young University where he earned a degree in Zoology. He also attended the University of Georgia where he earned a Master's degree in Educational Psychology. He completed his education at the University of Utah with a Secondary Administration Endorsement. He married his sweetheart Kathleen Ballard on March 16, 1962, in the Salt Lake Temple. They raised their four children in Draper surrounded by extended family. Family was paramount in Robert's life. He loved his wife, children, grandchildren, and great grandchildren dearly and delighted in their presence and celebrating special events and holidays with them. His lifelong career has been in education. He worked as a teacher, school counselor, assistant principal, principal, and assistant superintendent. He enjoyed the students as well as the many fine colleagues that he worked with in different positions.
As a member of The Church of Jesus Christ of Latter-day Saints, Robert had an unshakable testimony of his Savior and served valiantly in many callings. Among those were missionary in the Western States Mission, Bishop and Counselor in the Stake Presidency. With his wife, Kathleen, they served 6 years at the Church Conference Center as well as 3 years at the Draper Temple.
Robert enjoyed the outdoors, especially working in his garden at his home. He also enjoyed camping, fishing, and biking. When he was not outdoors you could find him in a book. He loved historical novels and biographies.
He is preceded in death by his parents and brother, Marvin B. Day and is survived by his wife, Kathleen B. Day, two sisters, Phyllis Griffiths (Reid) and Elizabeth Gloeckner (Peter), sister-in-law, Roylene Day, and his children, Patrick R. Day (Jean Marie), Janette Cook (Randall), Edward B. Day (Traci), and Suzanne Covey (Willard), grandchildren, Anthony, Amanda, Edward, Allison, Spencer, Emily, Hannah, Abigail, Brittani, Tait, Jaxson, Berkley, Willard Jr., Mary, Maxwell, Margaret, and Joseph, and five great grandchildren.
The family would like to thank Liliana, Shaun and Keri at Solstice Hospice Services, and also the caregivers at Danville, for the wonderful and loving care given during the final year of Robert's life.
Funeral Services will be held Thursday, November 11th at 11:00 a.m. in the Draper Stake Center, 13085 South 300 East, Draper. Friends may call Wednesday evening from 6 to 8 p.m. at the Anderson & Goff Mortuary, 11859 South 700 East, and from 10 to 10:45 a.m. at the church prior to the service. Interment will be in the Draper City Cemetery.